A Short History of Doughboy Pools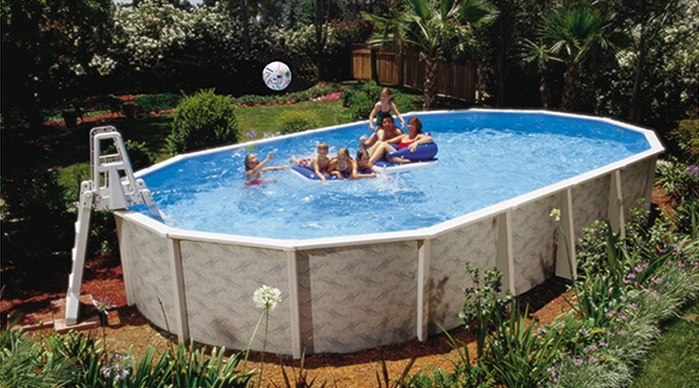 Doughboy Pools are manufactured by Hoffinger Industries, but were originally made by Domain Industries until Hoffinger Industries bought the company, and if you are wondering about the strange name of this pool company, here is a little history of that company.
During WWII Domain Industries perfected the rubber sealing process and won an Army contract to seal K-rations. These rations were portable "meals in a can" carried by U.S. soldiers in battle. These soldiers earned the nickname of Doughboys.
This is why, in 1947, Domain Industries named their packaging company Doughboy Plastics Division. Doughboy Plastics Division specializes in the family outdoor entertainment market by making inflatable splasher pools, toys, and beach balls. Once this was accomplished, Doughboy Plastics Division changed the name to Doughboy Recreational.  In 1974, Hoffinger Industries bought Doughboy Plastics Division but did not change the name.
The Connection To Above Ground Pools
Hoffinger Industries began and is still owned by Marty Hoffinger who invented the first above ground pool filter in 1945. Although Doughboy Recreational has made a name for themselves in above ground pool manufacturing, they have also remained in the rubber sealing business. The pool liners that they make employs the Therma Seal technology which makes a liner seam which is many times stronger than the liner material itself.  It takes liner seam reinforcement to an entirely new level. This enables them to provide a 100% guarantee on the seams of the pool liners.
Doughboy Recreational is also the only above ground pool manufacturers that make their entire product line from all natural resources. This has earned them a place as one of the top manufacturers of above ground pools. And Doughboy Recreational has always been proud to say that their products are Made In America!
These pools provide a safe way for families and friend to spend time together in a healthy way filled with hours of fun all in the safety and comfort of your own backyard. Doughboy Recreational is proud to say that it is the world's leading above ground pool manufacturers.
Doughboy Recreational takes pride in the workmanship that goes into its pools and stands behind their products one hundred percent. And nobody cares about your pool safety like Doughboy Recreational does.
With many choices available on the above ground pool market today, this company provides much information so that the consumer can make a wiser decision when choosing the above ground pool that they buy. These pools are built to last a lifetime so that many family memories can be made.
Doughboy Pools are made with your safety in mind first and foremost. These pools are made with the highest quality materials. You can rest assured with one of these pools that it will not fall apart from shoddy workmanship within a few months as some above ground pools do that use cheaper construction materials.