Doughboy Pools – the Above Ground Pools
It's a hot summer- Don't you want to get cool and have fun? If you like swimming and don't have a swimming pool and don't want to leave your house, then it is time to consider putting up a swimming pool in your backyard. Read this Doughboy pools review and you can easily do that by getting a Doughboy pool, the number #1 American pool manufacturer, and supplier!
Why should you buy Doughboy pools?
Doughboy pool is Reliable – Doughboy is the largest manufacturer of above ground pools – since 1948

Best Innovations – Doughboy pool was the first to use slide joint connectors to provide 100% structural integrity; Doughboy introduces a strapless oval pool, produce a liner that will withstand temperatures in excess of minus-32 degrees; It has truly expandable liner; to design the Com-Pac Oval Pool Support System, saving over 4 feet and allowing larger oval pools into smaller yards

Warranties – Best in the Business! Lifetime Structural Warranties on MANY Doughboy Pools above ground pools Models.
Doughboy pools – Above ground pools or in-ground pools selections
There are many different sizes of Doughboy pools you can select, while many people know that Doughboy is a  manufacturer of above ground pools. but I bet still many people don't know that recently  Doughboy introduced a line of above-ground pools that can actually be sunken or buried in the ground. It's hard to tell this is actually an above-ground pool. This really can expand your choices when considering putting in your own pool. If your ideal backyard includes an in-ground pool but your budget doesn't allow for it then Doughboy In Ground Pool is your solution!  Doughboy manufactures the only above ground pool that can be installed completely in the ground – giving you that in-ground look for thousands less!
Doughboy's Inground Pool Kits include everything you need to build your state of the art inground swimming pool easily. The strength and quality of these pools are unmatched. You can choose from several unique shapes and sizes to create your backyard retreat.
Here is an excellent example of how careful planning can make an above-ground pool look like an in-ground pool. Instead of using a ladder or stairs to access the above ground swimming pool, the ground is rising up to meet the level of the pool. very nice design!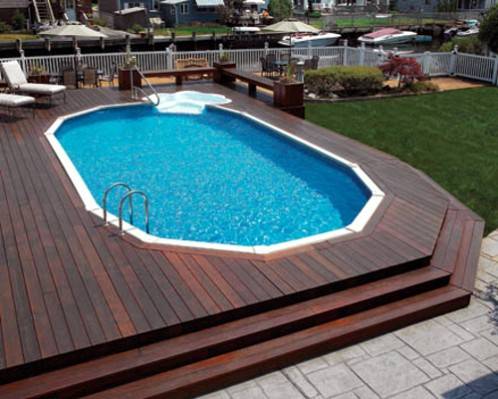 The below shows one of the good and positive features of an above ground swimming pool is that the pool is literally raised above the ground, and not as easily accessible to children under 5 years old than in-ground styles.
This design shows how you can make an above ground pool even safer, by adding fencing around the top rim of the pool and a fenced-off and gated stairway leading up to the pool.
Above-ground pools like the one below that have all the amenities of an in-ground pool, including a spa and two private deck or patio areas. very nice design
So what are you waiting for? What's holding you back?  The only thing I can think of is getting a new swimsuit.  Better hurry before the hot weather is over! hope you get some information from this
Doughboy pools review.
Few recommended readings you should not miss: